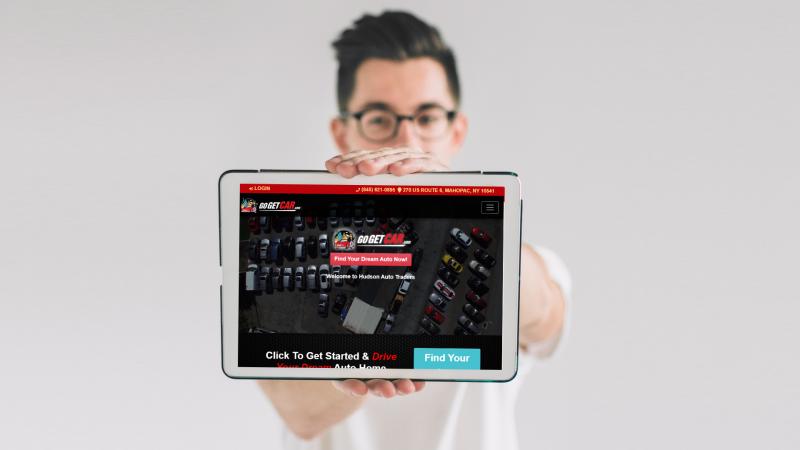 AutoSTRADA SEO automotive website Case Study: GoGetCar.com
An auto dealer website is an important investment. I might go as far as to call it a crucial decision for your used car dealership. In today's digital world, a strong digital presence can make a vast difference.
For the majority of car buyers, the shopping process begins online before they even call or visit a dealership. And as the world continues to change due to Covid 19, more and more people will shop virtually. In fact, many may consider completing the buying process entirely online. (Which is why we're creating a
virtual buying portal for used car dealerships
.)
What kind of auto dealer website software will help you succeed?
See how our product AutoSTRADA has helped other auto dealers with their digital presence. The following is a case study of a recent AutoSTRADA client,
GoGetCar.com
.
Load Speed
Load speed is an important part of user experience and search optimization. You need a website that loads quickly on mobile and desktop. Even with advanced design elements like video, GoGetCar.com has a high load score, according to the industry standard.
A fast load speed is one of the factors we pay close attention to when building new websites for our clients. Optimal loading time is 3 seconds or less, and as you can see below, the site loads in 1.16 seconds, an ideal time.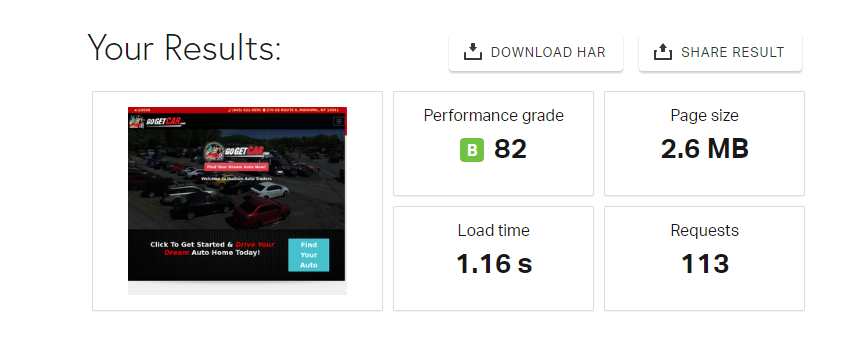 SEO
Another top concern for our clients is search engine optimization. We have perfected the science of SEO and can get our clients ranked NUMBER 1 on Google for local search terms relevant to their dealership. Don't believe us? See the evidence in the image below for GoGetCar.com.
We've helped them rank number 1 for terms like Mahopac NY Used Cars, Used Cars in Mahopac NY, Hudson Auto Traders, and many other variations of those keywords that many local car buyers are using to find cars in their area.
Ask us
to show you more examples of our many clients ranking at the top of search results. We'll let you know how we can do the same for your dealership.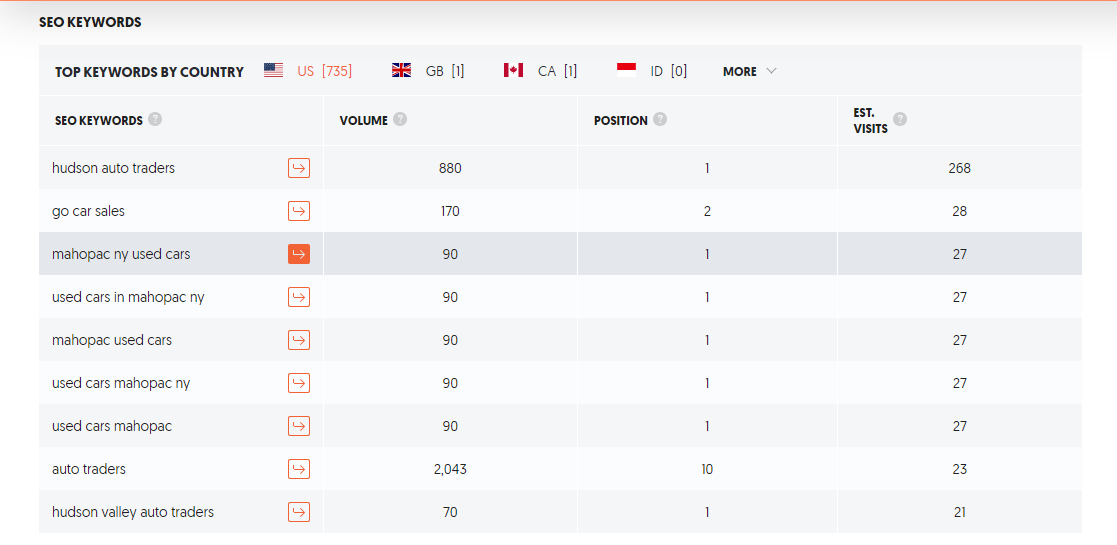 Design
A professional design sets apart your dealership from the competition. With all the drag and drop editors out there, we know you have a lot of options. However, AutoSTRADA is designed with conversion optimization in mind by industry professionals with decades of experience.
Video
Video is one of the top design trends that increases conversions and keeps customers on your website longer. GoGetCar.com incorporates a drone video header that gives websites visitors an intimate glimpse at the location, and attracting attention and personalizing the dealership.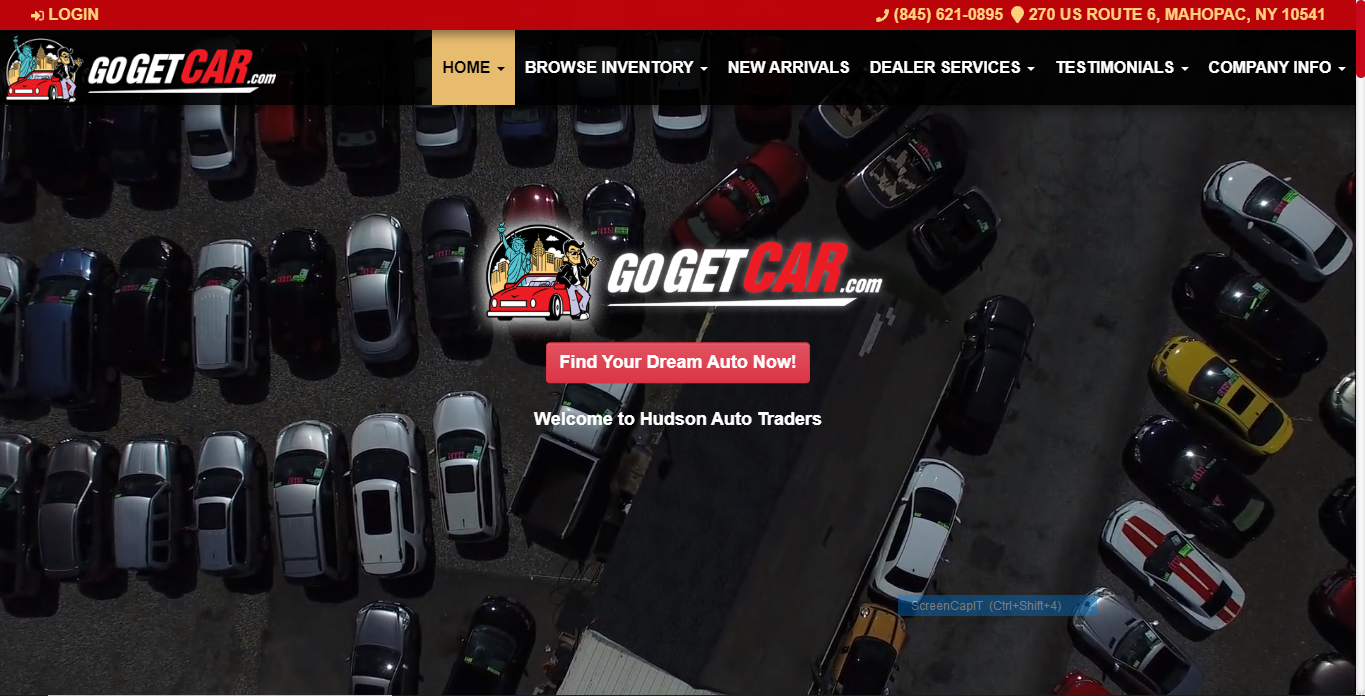 Mobile Responsive
Mobile is the new standard for websites, and your website must look good on all devices and browsers. AutoSTRADA has been built on the latest mobile-responsive framework so all our clients look their best, no matter what device your customers are using.
Testimonials
AutoSTRADA comes with several widget options to help increase the trust of your website visitors and maximize your conversions. You can see
GoGetCar.com
has selected to include the Testimonials feature, which lets them add in Testimonials they've collected, or solicit new testimonials directly on the website.

Lead Generation Forms
No website is complete without lead generation forms. Using our conversion optimized formula, we include Call to Actions in the places most likely to attract car buyers and turn them into leads.
Inventory
This is what your customers are here to see- you inventory. With our AutoSTRADA dealer website software, each vehicle page helps build your SEO and displays vehicles in their best light. Our sort feature makes it easy for them to find exactly what they are searching for, and helps your sales staff know what leads are interested in.

Location Maps and Info
Other widgets in the AutoSTRADA dealership website software include locations info and a map to show visitors how to find you.