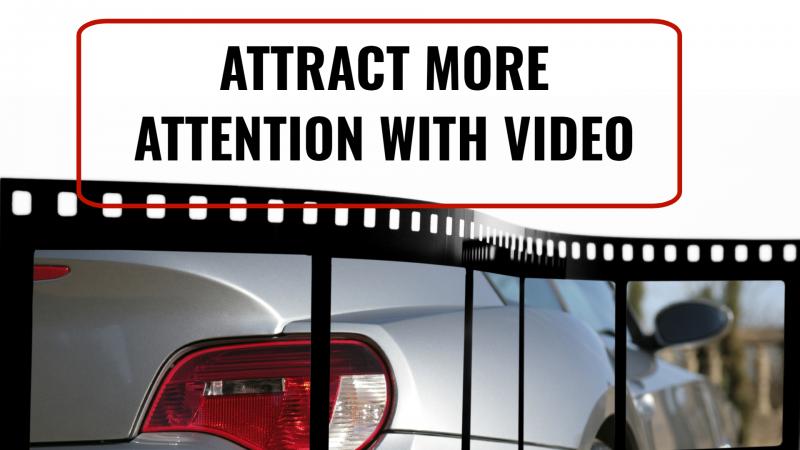 Video is a top marketing trend that many brands are leveraging to attract more visitors and make more sales online.
The auto dealership industry is no different. Video can help in many ways to boost your marketing efforts and grab the attention of potential buyers.
How can you use video for your auto dealership?
Videos Educate
Most people start the car buying process online, by researching vehicles and local dealerships.

By creating educational videos about the specific car they are researching, you are establishing your dealership brand as an authority, and making a connection with your audience.
Video attracts the eye better than images or text, and it keeps visitors on your website longer.
Give website visitors the information they are looking for with educational videos about your vehicles. This will build trust, establish your dealership as an authority in the market, and also tell search engines like Google that your content is valuable and worthy of being displayed at the top of search results.
You may haven noticed that video results often get boosted to the top of the SERPs. By creating educational videos about your vehicles, you are giving yourself an edge over the competition in many ways.
Videos Earn Trust
There are several ways you can use videos to increase trust in your visitors. People tend to read articles with a more analytical part of their brain, but watching videos tends to stimulate more emotional responses. And as I've mentioned before, everyone is an emotional buyer. Make that emotional connection by using video to build trust
Testimonials
Video testimonials are one way to build trust. Most people (84%) trust online reviews as much as they trust their friends or family. By creating videos of real customers that are happy with your dealership, you are connecting emotionally and building trust in every potential customer that views that video.
We have created our own video testimonials at events, and have found them to be very helpful in showing potential customers why they might want to choose us over the competition.
Personalizing your Brand
You can also use video to put a face to your brand. People don't want to buy from a business, they want to buy from other people. By immediately making that personal connection, even through your website, you are building trust in your website visitors.
Use a video to describe your business, to give a tour of your lot, or even give quick tips on car maintenance. All these are great ways to put a face on your dealership, and establish trust in your website visitors.
Videos Entertain
Besides going online to research and educate, people love videos for their entertainment value. If I ask you what funny videos you've seen online lately, I bet some immediately come to mind.
Storytelling is a popular and successful marketing technique being employed by many brands. Creating videos that tell a story will grab the attention of your audience and keep them enthralled.
Create a video of one customer's experience working with your dealership, and how the vehicle they purchased improved their life. Show your business doing good in the community, or hosting a fun event. Even entertaining commercials, like this humorous Geico commercial, grab people's attention and makes them laugh.
By entertaining your audience, you are keeping their attention longer and fostering positive feelings towards your brand.
Videos are Shareable
Videos are more viral than other content. By creating entertaining or educational videos, you're more likely to get shares on social media and around the web. The more links back to your website, the better you will rank and the more traffic you'll be bringing in.
What are you waiting for? Start creating video content for your auto dealership today!