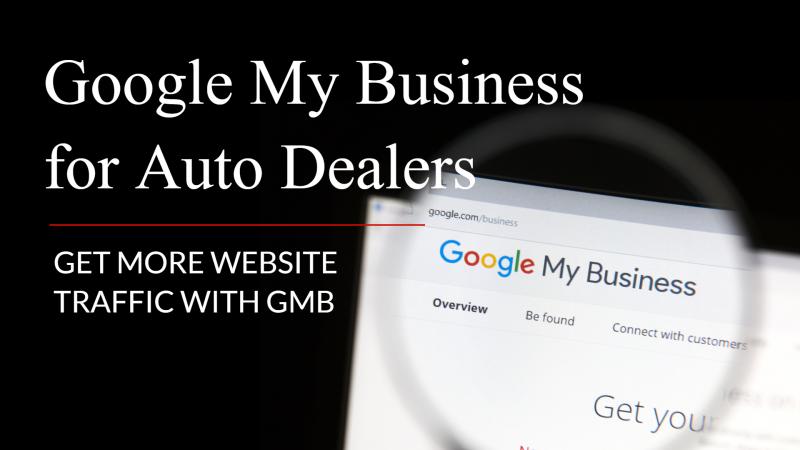 Get more website traffic to your dealership website with a Google Business Listing
Got a great website, but wondering how you can get more traffic to it? Get more eyes on your website by leveraging one of Google's most powerful, FREE tools: Google My Business.
Google holds the majority of market share when it comes to search traffic. Over 85% of searches are done on Google. It makes sense, then, to consider Google a priority when it comes to ranking your website to get more car buyer traffic.
What happens when someone local searches for your dealership? Odds are good that the first thing they see is the Google Business listing. Manage your listing to get more traffic, and control the first impressions people have of your dealership.
Along with voice search, long tail keywords, and semantics, local search is a top SEO trend. And Google provides a tool to help your auto dealership show up more often in local search results. If you need more traffic for your auto dealership, claim your business listing now.
How do you claim your Google My Business Listing?
Click on Manage now, and then enter in the name or address of your dealership. You can enter in basic information like address, phone number, and website to start out.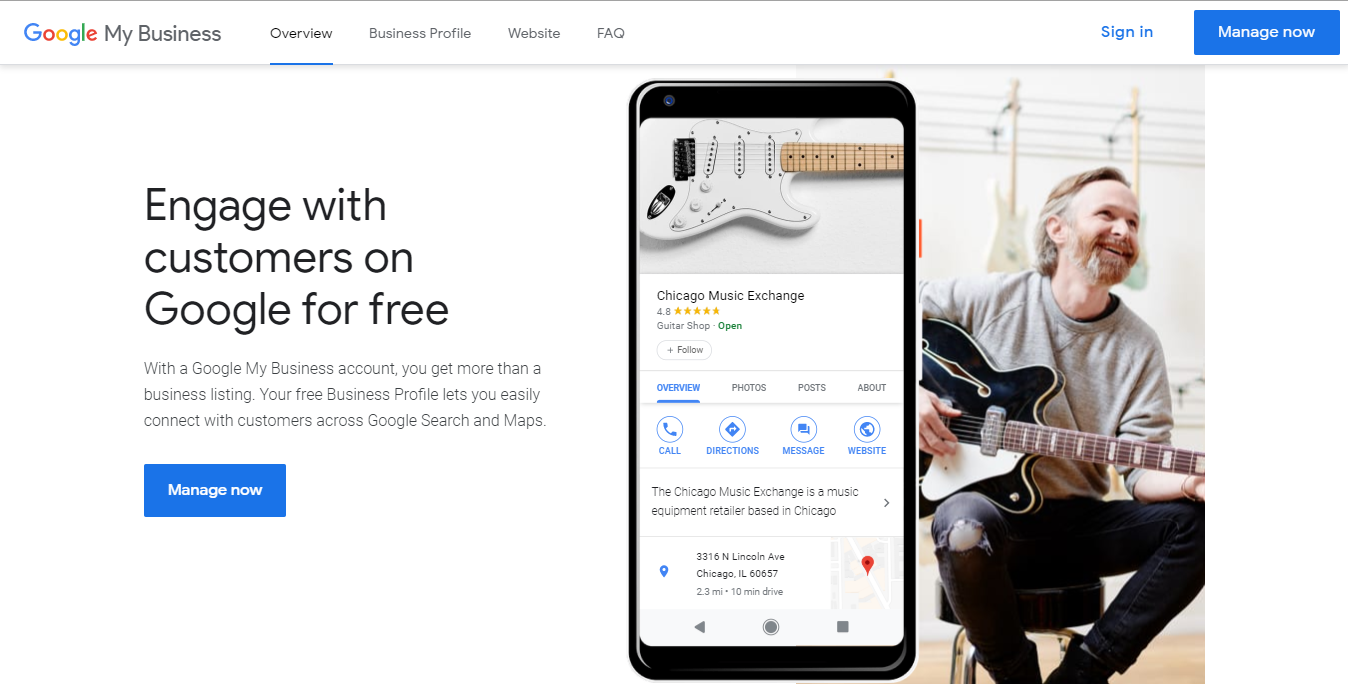 Quick Tip: Make sure your address and phone number match what is listed on your website to avoid being penalized by Google.
After creating a profile, you can verify your listing by having a call sent to the phone number for your business, or a card physically mailed to your business address on the listing. Not necessary, but an important step to solidify your ranking and make it easier for you to edit your listing in the future.
One you've claimed your Google Business account, follow these Google My Business best practices to get more traffic to your dealership.
Google My Business Best Practices for Auto Dealers.
Add as much information as possible to your profile.
You only need to fill out the basics to claim your profile, but more is better when it comes to ranking and keeping visitors happy.
Fill out everything you can in detail. Google allows you to add products and product categories. This might be a great place to highlight some of your hottest inventory or additional services you offer (like oil changes, tune ups, or detailing.)
Just like the keywords on your website matter, choose your categories carefully to maximize your exposure to your target audience.
Upload a LOT of photos
One study found a strong correlation between number of Google My Business profile images and calls, clicks, and direction requests.
Businesses on GMB that have with over 100 images get 520% more calls than the average business.
Businesses with more than 100 images get 2,717% more direction requests than the average business.
Businesses with more than 100 images get 1,065% more website clicks than the average business, while those with just one get 65% fewer.
Businesses with more images on their GMB profiles also get more views on maps and search.
More images is also correlated with a higher amount of times a business will appear in direct and discovery searches.
What kind of images should you upload?
1. Product images. You can highlight images in your inventory by uploading them directly to your business page.
2. Dealership photos. Help people get to know your dealership better by uploading photos of your building, the lot, and behind-the-scenes action that goes on daily at your dealership. Include photos of your staff, and even videos.
3. Photos of events. If you attend events or conferences, or hold special events at your dealership, make sure these are uploaded to your GMB profile. Authentic photos of your staff, your dealership, and your happy customers will go a long way in building trust in people viewing them.
4. Photos of customers. Snap photos of all your customers in their new ride or even after a positive service experience and share them (with
permission, of course). Not only will this build trust, your current customers might also like to grab those photos and share them themselves!
Like photos, videos can also go a long way in building trust and leveraging emotion to bring in more leads to your dealership. Upload as many videos as you can, including commercials, live at events, or any other video content you've created.
Quick Tip: Don't forget to encourage customers to upload their own photos or videos to your GMB page!
Ask for reviews.
Over 83% of people trust reviews online as much as they trust recommendations from friends. Getting more reviews for your dealership will bring more traffic to your website, and help turn that traffic into leads.
Ask people to leave reviews on your GMB page through your email list with a link, or by using other creative ways. One example is by sending customers a physical thank you card in the mail, and including a line that asks them to leave a quick review on Google if they had a good experience with your business.
Use the Messaging Option.
Get the app and instantly respond to inquiries through your GMB page. Consumers today expect instant results, and giving them a way to ask questions immediately will help turn these visitors into leads for your dealership.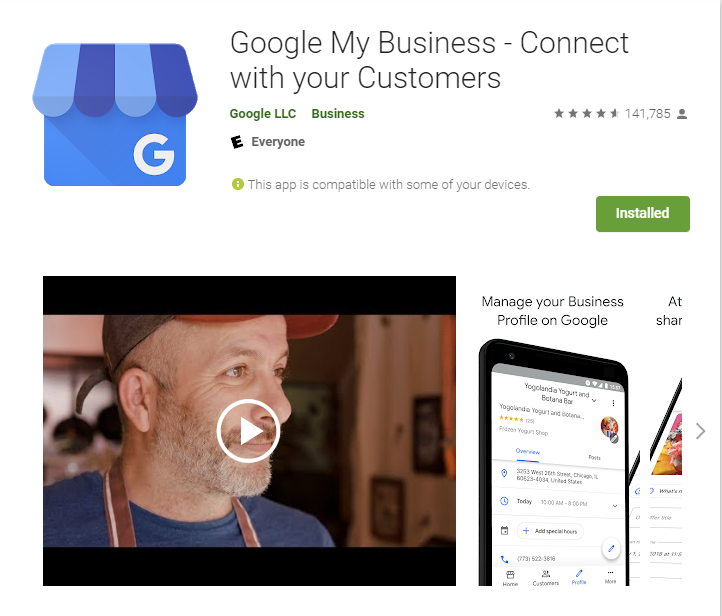 Post Updates and Promotions
When Google Plus was decommissioned, the posting features were integrated into GMB. You can now post promotions or business information directly to your business listing to appear in search results. Advertise your sales, special events, or other offers.
Make sure you include a call to action that sends people directly to more information or where they can connect immediately with your dealership. In the example below, the local dealership near me posted about their powertrain warranty, with the call to action "Learn More" which will encourage visitors to click and take them directly to the dealership's website.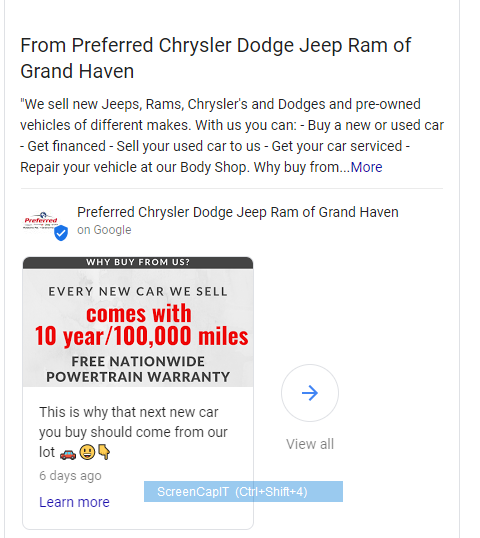 Don't just claim it and leave it.
Like your website and any social media profile, you can't just build it and abandon it. You need to check back regularly and continue to add content. Post updates, upload new photos, and check your insights to see if there are ways you can improve.
People expect to see fresh content, so don't disappoint. Continue to post and request reviews, and encourage customers to upload their own content. The more you nurture your Google Business page, the more traffic you'll get.
Conclusion
If you need more traffic to your dealership website, start using Google My Business to get more local traffic.
Claim your listing, then follow these simple best practices:
1. Fill out your complete profile.
2. Upload a plethora of photos and videos.
3. Ask for reviews.
4. Use the messaging feature.
5. Post regular updates and promotions.
6. Stay active.
Have questions? Just ask us!