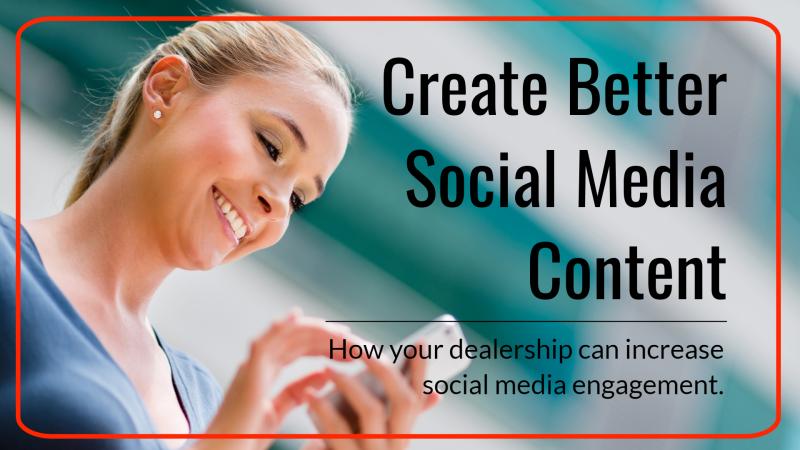 Automotive Social Media Marketing: Part 2
What to post on social media to increase engagement, and how often you should be posting.
We talked about the value of social media, and what sites you should be using for your dealership in the last article.
Now let's talk about what kind of things you should be posting, and how often?
The days of gaining a following just from being on a social site are long over. You need to create an engaging profile, use high quality media, and build relationships with your customers.
How often should you post on social media?
This depends on how you want to use social media as part of your marketing strategy. If you're merely creating a basic presence on social sites to build brand awareness and trust, posting every few days is enough. You need to show you're active, and that your business is relevant in today's digital world.
But if you really want to generate leads and drive traffic from your social sites, posting daily or even multiple times daily will help.
What kinds of content are best for auto dealerships?
I like to divide the kinds of content I create and share into a few categories:
1. Useful information.
Teach people car buying tips, maintenance tips, and the pros and cons of different vehicles for their demographic. Buying a car can be overwhelming for many, and proving you are an expert that is willing to inform them in a transparent way will build trust and ease their anxiety.
2. Entertaining Content.
Humor
People are more likely to share humorous content than any other kind of content. We all like a good laugh. If you can find relevant memes or jokes about car sales, share them! It can be a great way to raise awareness of your brand on social sites.
Inspiration
Quotes, videos of people overcoming obstacles or stories of doing good are all great ways to connect emotionally with your audience. These types of content also tend to be highly visual, and highly shareable.
3. Promotional or Dealership content.
Be sure to tell your followers about special deals or sales at your dealerships. You should also post any changes in hours, or special events going on.
I always check a business' social media page if I want to know what is going, assuming that many businesses will use that page as an easy way to keep people updated. Creating an event on Facebook connected to your business page will get more exposure than just a post, for example.
People go on social media to learn, to be entertained, and to research goods or services.
You probably already know that emotion is a key motivator for car shoppers. Creating posts that connect with your audience on an emotional level is crucial to driving traffic and generating leads. For example, showing a picture of a car on your lot might help to show your followers what inventory you have, but showing a video of someone driving that same model of a car to the beach with their friends and having a great time will trigger emotions like Fear of Missing Out, making viewers wish they could own that car and have a similar experience.
How to create engaging content on social media:
Content should tell a story.
Using storytelling in marketing is a popular trend right now. People love content that tells a story. The story of a car buyers overcoming obstacles and finally finding the perfect car. The story of a high school grad getting the keys to his first car. The story of a family taking a trip with their brand new mini van that has plenty of space to keep everyone happy.
When you are creating content, make sure it tells a story. Storytelling leverages the power of emotion to connect with your audience and drive more sales.
Visual content is always better.
Most platforms are recognizing the popularity of video, and are more likely to show your video over other visual content. However, images are still highly shareable and clickable.
Visual content is a great way to tell a story, and make an emotional connection with your audience.
Keep your goal in mind.
Remember that the purpose of your social media is to drive traffic and leads to your website. Post links to your content and offer incentives for visiting your website, like a coupon download or even a giveaway on your site with a chance to win something such as tickets to a local event. (A local event is more likely to ensure you're attracting the correct geographical audience, more on that below.)
Keep track of your success
Find out which posts do best on each site, and focus on posting more popular content. Each social media site is different in what users like to see and how they engage, so your posting strategy may vary across different social networks.
Use Hashtags to increase engagement


With so much content, hashtags have become a popular way to sort and search for topics. Use the right hashtags to get more eyes on your content and find your audience amidst the vast ocean of users.
Optimize for Local Engagement
You need to reach the audience that is close to your auto dealership.
How can you better reach a local audience?
Fill out your location information on all social sites.
Use Google My Business to post updates on sales and new inventory so people searching for local cars will see what is new at your dealership.
Optimizing for Google searches is obviously a key component to your dealership's online lead generation strategy. There are many ways to optimize for searches, which we'll talk about in more detail in other articles. But using
Google's Free Tools
, like Google My Business, is one of the easiest and most effective places to start boosting your ranking.
Use local hashtags (see above). For example, Twitter allows you to view trending hashtags for a specific region. Set your region to your local area and participate in relevant hashtags.
Create local events on Facebook. Events are more likely to show up in notifications and newsfeeds than page updates. You can connect an event (like Memorial Day Sale, for example) to your page, which will help grab the attention of your local audience better than just a page update.
Create relationships with other local businesses and cross promote on one another's social media accounts. This is a great way to leverage the trust other businesses have built with their following, and access a much broader audience.
Conclusion
Creating relevant and engaging content on social media can drive more traffic to your website, generate more leads, and help build your auto dealership brand in a big way.